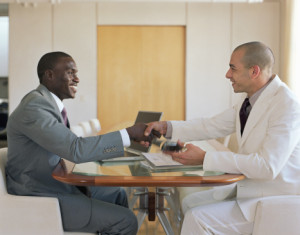 Do you like rude people?  Do you mind if someone interrupts you?  Are you happy when people ignore you?
Of course not.  No one likes bad manners.  People with bad manners are rejected.  They don't get the good jobs or the promotions.  Their businesses do not succeed.
People with good manners, on the other hand, are accepted, liked and supported.  They have friends, luck and success.
6 Examples of Good Manners:
1.  Be polite to everyone you meet.  You will never regret being too polite, but you might regret being rude.
2.  Use good manners in all of your communications.  Examples:
Return telephone, email and text messages within 24 hours.
Don't use swear words or vulgar words.
If you receive a rude message, don't respond with rudeness, but be polite.
Do not interrupt people.
Make sure people are ready to listen to you before you start talking.
Talk less than 50% of the time.
3.  Show your appreciation at every opportunity, even for small things.  "Thank you for returning my call."  "Your advice has been very helpful."  "I appreciate your taking the time to meet with me."
4.  Before starting important conversations, meals or meetings, turn off your cell phone.  Ignoring people while you use your cell phone is disrespectful.  You can probably leave your cell phone off for hours with no lasting harm.
5.  Arrive on time or early for appointments.  When you arrive late, you appear to be disrespectful, disorganized or both.
6.  Don't try to show off or prove you are more important than others.  This is called "one-upmanship" and is poor manners.  For example, a friend is excited about meeting an important scientist.  You immediately "top" him and tell about the time when you met a much more important scientist.  Instead, share your friend's excitement without bringing up your own story.
By having the best of manners, you will enjoy more support, admiration and respect from everyone around you.
Creative Commons Attribution: Permission is granted to repost this article in its entirety with credit to Janice Wheeler and a clickable link back to this page.